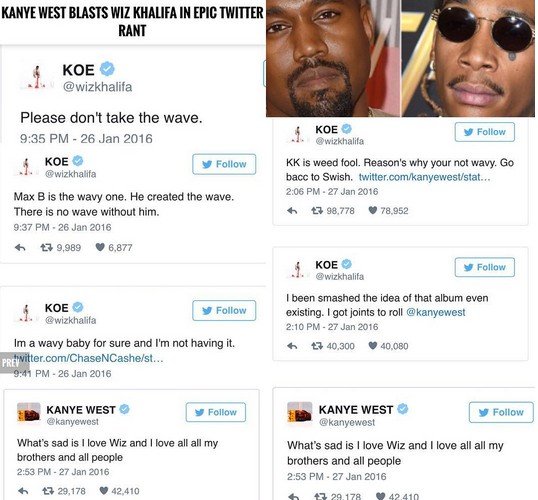 PLEASE excuse Yours Truly CCG for this momentary lapse in judgement, as Ya Boy does not normally post, entertain, or, even give any attention to BEEF!!!
BUT; this sh*t here, is HI-LAAAAAAAAAAAAA-RIOUS!!!
It may have originally began with CHICAGO-native KANYE WEST and PITTSBURGH-nativ WIZ KHALIFA, but; PHILADELPHIA-native AMBER ROSE, who is the ex-wife of WIZ, and ex-girlfriend of KANYE, seems to have put down her SMACKDOWN.
AMBER jus recently dragged for KNAYE, saying he was into some kinky, backdoor stuff when they were together.

Ms. ROSE also has allegedly claimed to have photos and videos of these activities with Mr. WEST.
Whether or not these photos and videos see the light of day depends if she and Yeezy get into another knockdown, drag-out social media smackdown. This whole fight started over Kanye changing his album name from Swish to Waves. Wiz blasted Kanye for supposedly ripping off rapper Max B's style, and Kanye fired back with an epic rant for the ages.
-CCG
— Amber Rose (@DaRealAmberRose) January 27, 2016
— Amber Rose (@DaRealAmberRose) January 27, 2016