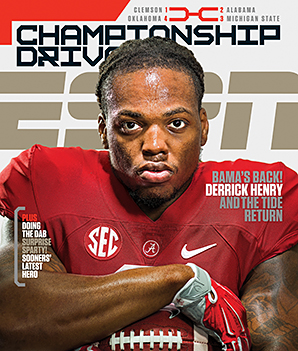 CRAZY COOL GROOVY CONGRATULATIONS again goes out to Head Coach NICK SABAN, Running Back #2 DERRICK HENRY, and the ALABAMA CRIMSON TIDE for on Monday, January 11, defeating the CLEMSON TIGERS 45 -40 to win the 2016 NCAA COLLEGE FOOTBALL PLAYOFF NATIONAL CHAMPIONSHIP!!!
2016 marks the fourth National Title for the CRIMSON TIDE during the 7-year reign of SABAN, and their 16th overall NCAA CHAMPIONSHIP.
DERRICK HENRY has just recently
DECLARED Himself ELIGIBLE For The 2016 NFL DRAFT
.
However,; take note that the good folks overs at ESPN The MAGAZINE featured DERRICK HENRY on the cover of their 2015 COLLEGE FOOTBALL PREVIEW (photo below), and featured #2 on the cover of their 2016 COLLEGE FOOTBALL PLAYOFF PREVIEW.
-CCG