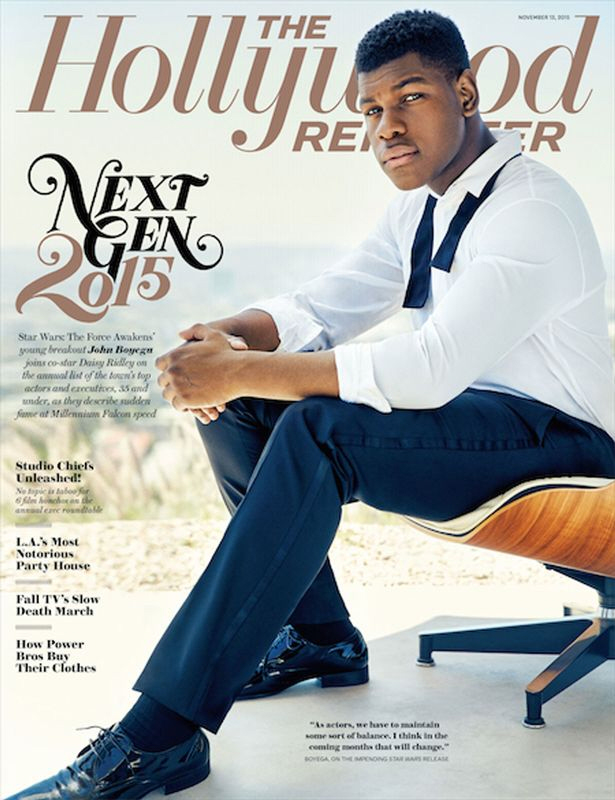 SOUTH LONDON-native Actor JOHN BOYEGA is the new face of the
STAR WARS
franchise, portraying
FINN
in the forthcoming
STAR WARS: THE FORCE AWAKENS
, and he is one of two covers for the
NEXT GEN 2015 ISSUE
of
THE HOLLYWOOD REPORTER
!!!
Here are a few interview interludes:
For some actors, like Ford and Fisher, being in a Star Wars movie is a great career catalyst. For others, like Natalie Portman and Ewan McGregor, it kind of has no discernable impact. And for others still, like Jake Lloyd and Hayden Christensen, it kind of destroys them. How much of that did you take into account before you took this on?
None of it. I am all about opportunity. I'm all about story. When J.J. signed on as director I was very much interested to come and read for him. It was just a matter of whether or not I could do the job, and apparently I could. For me, it's just all about making sure that this is a really cool film. That [Finn] the best character I can make him. In terms of it being a failure for some actors and all that stuff, it's been a long time since the last Star Wars movie came out. I haven't been scared with the risks and all that stuff. As an actor I wanted to do a great, great piece. As a fan as well.
How do you maintain a semblance of normal? Given the world is going nuts around you and about you — fans are crushing websites to buy advance tickets — how do you keep an even keel?
I think the major thing is I've had a life before. Two years ago I wouldn't have sworn this was a conversation I would be having. So it hasn't taken over my life just yet. As actors we have to try to maintain some sort of balance. I think in the coming months that will change and I'll know exactly what the dynamics are. But for now, there hasn't been anything that has completely changed the way my whole life works.
Coming off of Attack the Block did you have a blueprint for the way you wanted your career to develop? Was there a plan you were working off of?
Yeah, absolutely. Once we recognized Attack the Block would be a project the States would receive, once Big Talk Productions had [arranged] for distribution in the States at Screen Gems, we knew that was a great opportunity to go to America and get involved in some new projects. So the plan was to go over to the States, do a TV show, or a movie, and slowly build up a portfolio of work. But you know how life goes: Some things work out, some things don't.
I'm sure there's a contractually obligated answer to this question, but were you a Star Wars fan as a kid?
(Laughs.) What kind of contract would that be? Absolutely. Yeah, definitely I was.
Did your parents get your love for Star Wars?
No. My parents are not interested in Star Wars whatsoever. They're only interested in The Force Awakens. In terms of the rest, they're like, "OK, cool, but you're not in it." They're all about stakes. I've always been a fan, especially of the extended universe, like the comic books, the games. I had watched all the movies before being cast. I was fully aware of what Star Wars was. I didn't have to get an update.
-CCG
CELEBITCHY