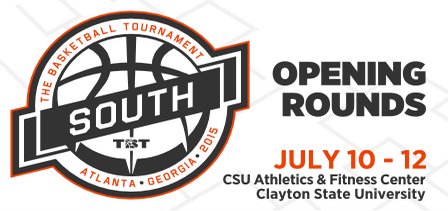 MIKE BIBBY, JASON WILLIAMS, and JAMAAL TINSLEY are among the former NBA Players that are on teams competing for the grand prize of $1 MILLION in
THE BASKETBALL TOURNAMENT (TBT)
!!!
The 97-team tournament begins this weekend in ATLANTA and LOS ANGELES.
There are at least 125 players with NBA or NBA Development League experience in
the national field
, according to a tournament spokesman, and include familiar names such as
Hakim Warrick, Michael Sweetney, Brian Scalabrine
and
Renaldo Balkman.
The winner-take-all, single-elimination tournament is open to players 18 years of age or older. It debuted last year with 32 teams and was won by
the Notre Dame
Fighting Alumni, featuring former Irish stars Tim Abromaitis, Luke Harangody, Ben Hansbrough and Torin Francis. They have a bye into
the final
17 spots.
Play in ATLANTA will be Friday, July 10 - Saturday, July 11, 9:00 a.m. - 11:00 p.m. EST, and Sunday, July 12, 11:00 a.m. - 6:00 p.m., at CLAYTON STATE UNIVERSITY.
Play continues in Chicago and Philadelphia on July 17-19 before the August 1-2, 2015 championship, taking place at FORDHAM UNIVERSITY in NEW YORK CITY and televised LIVE by ESPN.
Inquiry, Information, and TICKETS at THE BASKETBALL TOURNAMENT (TBT)
-CCG
ANS