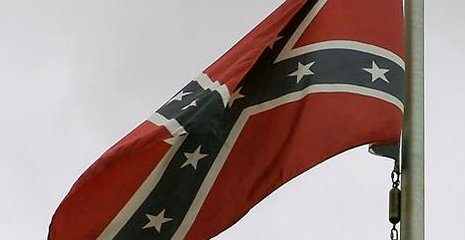 Many people want the CONFEDERATE BATTLE FLAG at
STONE MOUNTAIN PARK
taken down!!!
In an unofficial act on the morning of Friday, July 10, someone did.
AJC
reports STONE MOUNTAIN PARK POLICE Spokesman JOHN BANKHEAD said who took it, and exactly when they took it, is unknown. The flag was discovered missing about 11 a.m., and added that an investigation into the theft is ongoing.
The discovery was shortly after the Confederate flag was removed from the South Carolina Capitol.
JOHN BANKHEAD said;
"It could have been (stolen) overnight."
The theft would have required some effort. The flagpole from which it was taken stands 30-40 feet high.
The symbolic flag wasn't down long, however.
Bankhead said as soon as it was discovered missing, it was replaced, and it was flying again before noon Friday.
It was not immediately clear whether security in the area would be changed in light of the incident.
There have been calls to remove the flag from the park because of new controversy over the flag's symbolism.
Located in STONE MOUNTAIN, GA, the Confederate Battle Flag Confederate is one of five flags on a flag terrace leading to the top of the mountain. Also on the terrace are three CONFEDERATE NATIONAL FLAGS and the current UNITED STATES FLAG.
Bill Stephens, CEO of the
STONE MOUNTAIN MEMORIAL ASSOCIATION (SMMA)
the state authority that oversees the park, has said the Confederate flags will remain because
by state law Stone Mountain is a Confederate memorial and they can't be removed.
In 1964, the flag terrace was donated by the
UNITED DAUGHTERS Of The CONFEDERACY (UDC)
.
Friday morning, the Confederate Battle Flag was officially removed from the SOUTH CAROLINA STATE CAPITOL, ending a long debate over its presence there that was reignited after the CHARLESTON CHURCH MASSACRE, during which nine members of the EMANUEL AME CHURCH were murdered. Included among the nine was the Rev. Sen. CLEMENTA PINCKNEY (D: SC), who was the Senior Pastor and a SC State Senator.
-CCG
ANS