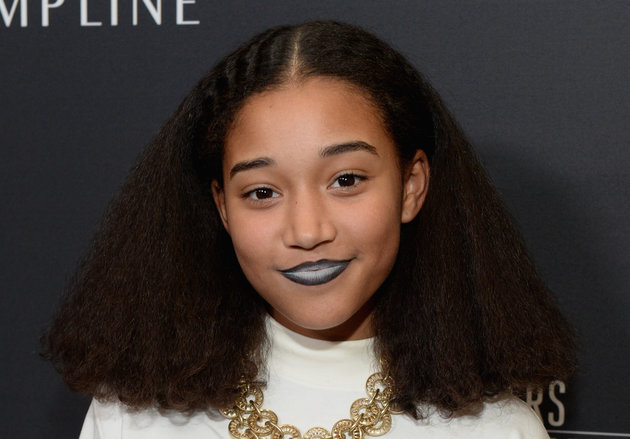 Do Black Female Lives Matter Too???
Sunday, that was the questioned posed by
THE HUNGER GAMES
16-year-old star
AMANDLA STENBERG
.
Her thunderous post addressed the centuries-old double standards faced daily by BLACK WOMEN in AMERICA.
AMANDLA STENBERG
posted to her
INSTAGRAM
;
"Black features are

beautiful

, black women are not," Stenberg wrote. "White women are paragons of virtue and desire, black women are objects of fetishism and brutality. This, at least, seems to be the mentality surrounding black femininity and

beauty

in a society built upon eurocentric beauty standards."
Just hours before she published her post about black female lives, she left a comment below a
picture
Kylie Jenner published to
Instagram
, which showed her hair braided in cornrows.
KYLIE JENNER wrote on her
INSTAGRAM
;
"I woke up like disss."
She called out the reality star for appropriating black culture, writing that she mainly took issue with her for adopting traits from black culture while ignoring the dangerous reality that comes with identifying as black.
AMANDLA wrote to KYLIE;
"When u appropriate black features and culture but fail to use ur position of power to help black Americans by directing attention towards ur wigs instead of

police

brutality or racism #whitegirlsdoitbetter,"
DO BLACK FEMALE LIVES MATTER TOO???
Below is her full post.
-CCG
ANS