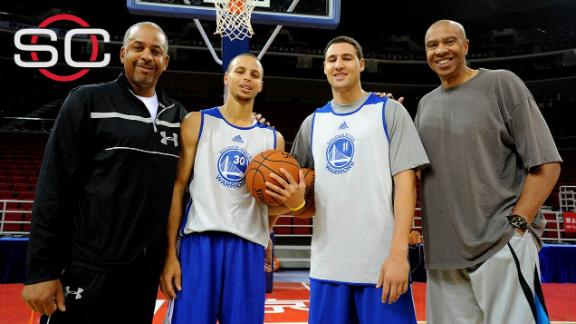 HAPPY FATHER'S DAY!!!
Collectively the 2015 NBA WORLD Champion GOLDEN STATE WARRIORS Point Guard #30 STEPHEN "STEPH" CURRY and Forward #11 KLAY THOMPSON are known as
The SPLASH BROTHERS,
and they both are sons of NBA ALL-STAR FATHERS.
KLAY is the son of former NBA Forward/Center MYCHAL THOMPSON who won two NBA WORLD TITLES with the LA LAKERS, and is currently the Radio Color Commentator for LAKERS radio broadcasts.
STEPH is the son of former Guard/Forward DELL CURRY who still retains the record as the ALL-TIME LEADING SCORER for the CHARLOTTE HORNETS, and is currently the TV Color Commentator for HORNETS TV broadcasts.
ESPN managed to get KLAY and MYKE, and STEPH and DELL together for the SPORTSCENTER SUNDAY CONVERSATION.
-CCG