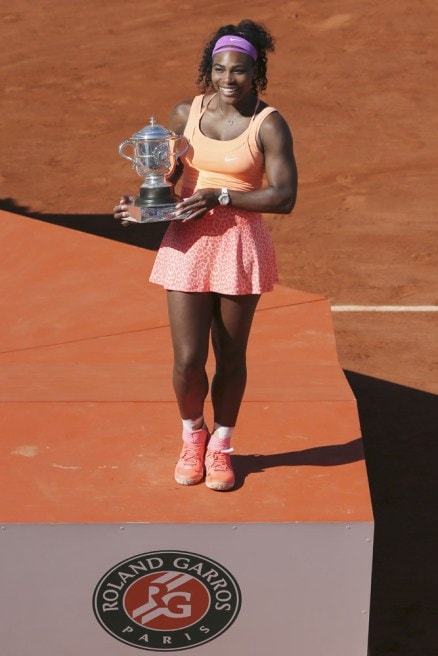 CRAZY COOL GROOVY CONGRATULATIONS goes out to Chocolate-Covered TENNIS Supernova SERENA WILLIAMS for earlier today, Saturday, June 6, in PARIS, FRANCE, defeated LUCIE SAFAROVA 6-3, 6-7 (2), 6-2, to win the 2015 FRENCH OPEN WOMEN'S SINGLES CHAMPIONSHIP, and her overall - her 20th GRAND SLAM TITLE!!!
ESPN
reports SERENA WILLIAMS said in FRENCH;
"When I was a little girl, in California, my father and my mother wanted me to play tennis. And now I'm here, with 20 Grand Slam titles. This is very special for me. I haven't always played very well here, but I'm really happy to win the 20th here."
#1-ranked SERENA WILLIAMS took the last six games and added to her championships on the red clay of Roland Garros in 2002 and 2013.
She stretched her GRAND SLAM Slam winning streak to 21 matches, following titles at the U.S. OPEN last September and AUSTRALIAN OPEN in January.
Only two women in the century-plus history of Grand Slam tennis have won more than Serena - MARGARET SMITH COURT with 24 titles, and STEFFI GRAF with 22.
SERENA later said to NBC Tennis Analyst MARY CARILLO;
"This is by far the most dramatic [major title I've won]. I didn't even train yesterday, I've had the flu ... it's just been a nightmare."
Speaking to her opponent in French, SERENA said;
"Lucie played very well, she was a magnificent opponent. It was a dream for me to win."
-CCG