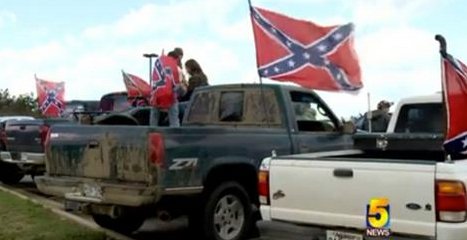 During this past weekend in what is believed to be the town of DALTON, GA, a parade of more than 35 pickup trucks were spotted cruising through town
flying
CONFEDERATE BATTLE FLAGS!!!
The event was recorded on a
cell phone
camera and posted online. But it's what happened partway through the video that has the video going viral.
The shocked videographer and his associate could not believe what they were seeing.
In certain disbelief, the videographer repeatedly made statements;
"Man, look at this sh*t…They got a g*td*mn day for Confederate f*ck*ng flags. This is some b*llsh*t."
The trucks went by a
gas station
and were continuing through an intersection without stopping, thanks to the assistance from the local police who were blocking off the intersection.
The man narrating the video said;
"They got the roads blocked off for these f*ck*ng flags."
Shortly after noticing the police were assisting the pickup parade, the astute videographer also predicted the trucks were about to crash. He pivoted and turned his camera just in time to see his premonition come true.
One
truck
is seen rear-ending another as the unmistakable
sound
of one car bumper hitting another is heard.
Video man exclaimed;
"Boom! Boom! I got that!" He later added, "God don't like ugly. God don't like ugly."
WARNING!!! NSFW!!! VIDEO CONTAINS HARSH LANGUAGE!!!
-CCG
ANS