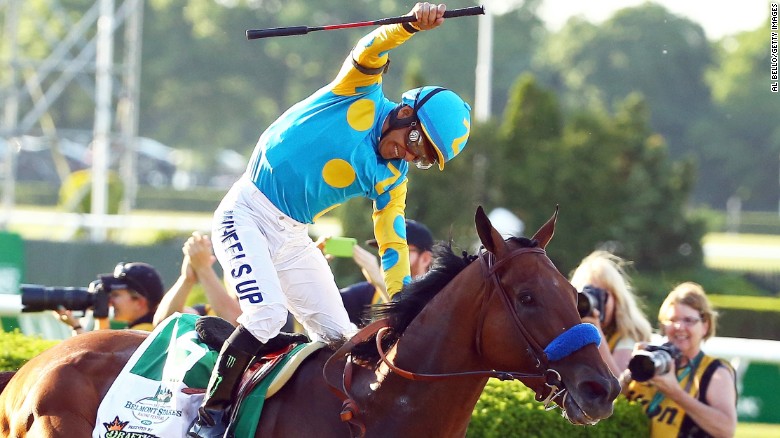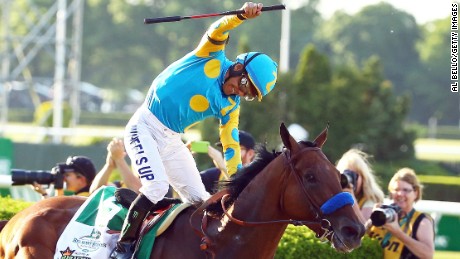 CRAZY COOL GROOVY CONGRATULATIONS goes out to 3-year-old
Bay Colt Horse
#9 AMERICAN PHAROAH for on yesterday, Saturday, June 6, winning the 2015 BELMONT STAKES in 02:26.65 to win the 2015 TRIPLE CROWN!!!
In all of HORSE RACING HISTORY, there have been only 12 horses to win the TRIPLE CROWN.
AMERICAN PHAROAH becomes the first TRIPLE CROWN CHAMPION since 1978, when AFFRIMED took home the title.
CNN
reports AMERICAN PHAROAH was the wire-to-wire winner of the equestrian contest at
BELMONT RACING PARK
, which is located just outside of NEW YORK CITY in ELMONT, NY.
He defeated second-place FROSTED by s 5 1/2 lengths. KEEN ICE came in at a closer third place.
Winning the TRIPLE CROWN requires winning the KENTUCKY DERBY, PREAKNESS STAKES, and then the BELMONT STAKES.
Of the eight competing horses on Saturday, AMERICAN PHAROAH was the only to have run in all three of those particular races.
CONGRATULATIONS goes out to the AMERICAN PHAROAH TEAM of Jockey #5 VICTOR ESPINOZA, Trainer BOB BAFFERT, and Owner AHMED ZAYAT.
-CCG