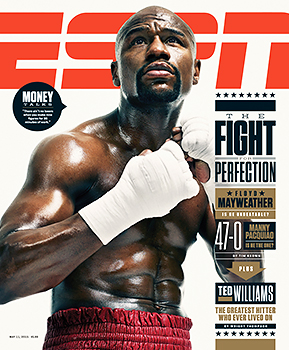 Saturday night, May 2, FLOYD MAYWEATHER remained undefeated as he defeated MANNY PACQUIAO by unanimous decision at the MGM GRAND HOTEL & CASINO in LAS VEGAS to become the undisputed WORLD WELTERWEIGHT BOXING CHAMPION, and increase his record to 48 - 0!!!
FLOYD says he may fight once more in an attempt to retire at 49 - 0, which would equal the record of the late champion, ROCKY MARCIANO.
During the weeks leading to the fight, ESPN Journalist TIM KEOWN spent time at the Mayweather Training Camp in an attempt to bring to us some insight on
FLOYD MAYWEATHER Jr.: The BEGINNING Of The END
.
-CCG