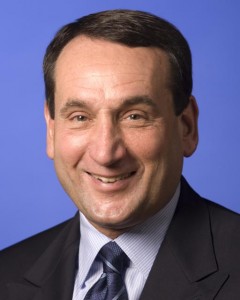 Meet MIKE "Coach K" KRZYZEWSKI, the legendary head coach of the DURHAM, NC-located DUKE UNIVERSITY BLUE DEVILS!!!
Today at 6:00 PM EST, Coach K will lead his team into battle against Head Coach BO RYAN and the MICHIGAN STATE UNIVERSITY SPARTANS for Game #1 of the
2015 NCAA FINAL FOUR
, in pursuit of the 2015 NCAA DIVISION I MEN'S BASKETBALL CHAMPIONSHIP.
Coach K feels lucky... and READY.
-CCG