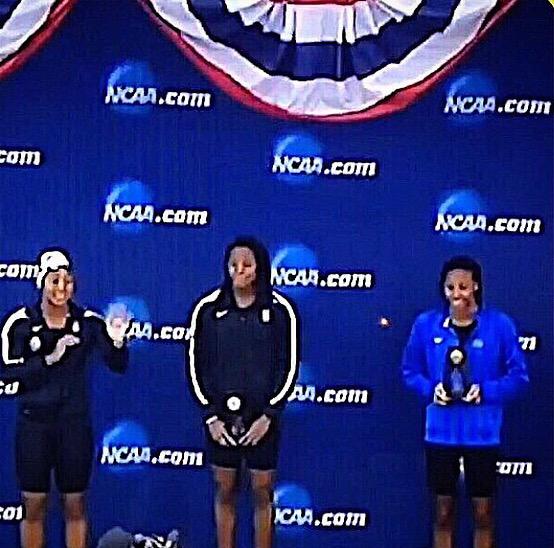 CRAZY COOL GROOVY CONGRATULATIONS goes out to STANFORD UNIVERSITY CARDINALS Swimmers SIMONE MANUEL and LIA NEAL, and UNIVESRITY Of FLORIDA GATORS Swimmer NATALIE HINDS for on last weekend for winning 1st, 2nd, and 3rd places for the 100 YARD FREESTYLE at the 2015 NCAA WOMEN'S DIVISION I SWIMMING CHAMPIONSHIP!!!
NEWSONE
reports this tremendous accomplishment sends all three young ladies into the history books for SWIMMING, SPORTS, WOMEN'S, BLACK, and AMERICN HISTORY for the first time in history that three BLACK WOMEN have finished 1st, 2nd, and 3rd at a NCAA WOMEN'S SWIMMING NATIONAL CHAMPIONSHIP!!!
Freshman phenom Simone Manuel of Stanford set an NCAA, American, U.S. Open, Championship and Pool record when she clocked a time of 46.09 in the women's 100 yard freestyle.
Manuel's Stanford teammate Lia Neal came in second place with a time of 47.13. (Fans may recall that Neal won a bronze medal in the 4×100 free relay at the 2012 Olympic Games in London.)
The University of Florida's Natalie Hinds swam a time of 47.24. Hinds reset her own-school record in the event during competition.
-CCG
History @NCAA Swim Championships 100 free as @simone_manuel @LiaNeal @nathindss became first African-Americans to earn 1-2-3 #sportforall
— USA Swimming (@USASwimming) March 22, 2015
History! pic.twitter.com/x38knJmeOK
— Rowdy Gaines (@RowdyGaines) March 22, 2015
"What we can do now is ... use this avenue to inspire others." - @simone_manuel in #20QT READ: http://t.co/JKigbcCQwP pic.twitter.com/wYFs4VqUrY
— USA Swimming (@USASwimming) March 24, 2015