April 2015 has us celebrating officially celebrating the Spring season with chocolate-covered Tennis Supernova SERENA WILLIAMS covering the April 2015 issue of
VOGUE
!!!
SERENA is captured on film by legendary Photographer ANNIE LIEBOWITZ, and VOGUE Journalist REBECCA JOHNSON interviews SERENA who speaks on Fitness, Forgiveness, Friendship, and
WHY SHE Is BEST FRIENDS With HER FIERCEST COMPETITIOR - CAROLINE WOZNIACKI
.
Here are some interview highlights:
On being lonely at #1:
"It's hard and lonely at the top. That's why it's so fun to have Caroline and my sister, too. You're a target when you're number one. Everyone wants to beat you. Everyone talks behind your back, and you get a lot more criticism. God forbid I lose. It's like 'Why?' Well, I am human."
On Serena's confidence and forgiveness:
...you can see it in her recently announced decision to go back to Indian Wells, a tournament she had vowed to boycott permanently after the largely white, largely senior audience booed the then–nineteen-year-old player throughout an entire match. The crowd had believed that Venus had pulled out of a match at the last minute to make sure the two did not play each other in the semifinals. It is a testament to her grit that Serena won on that difficult day, but she spent the next several hours weeping in the locker room. "Say whatever you want about me and Venus," Williams would later write in her autobiography, "at the end of the day we were just a couple of kids, trying to do our best."
On her on-court vs. off-court personality;
"On the court, I am fierce! I am mean and I am tough. I am completely opposite off the court. My confidence just isn't the same. I wish I was more like I am on the court. Nobody would know that I am constantly crying or complaining."
On maintaining her physique:
"Nowadays everybody goes to the gym. But when I won my first Grand Slam, I had never been." Even then, however, she was ambivalent about her naturally muscular physique, refusing to lift weights lest her arms get bigger. "I hated my arms," she remembers. "I wanted them to look soft." To this day, she uses TheraBands instead of weights to avoid overdeveloping her muscles.
On kids, family, post-career
"I guess," she says, sounding unconvinced. "I'm not even looking for it." When the tennis does end, she has plans to expand her interest in fashion beyond her current clothing line on the Home Shopping Network into something more high-end. She also hopes to increase her philanthropic activities—there's a school in Kenya she has funded, along with a nursing scholarship named after her slain sister, and a partnership with the Equal Justice Initiative, an Alabama-based nonprofit that provides legal representation to indigent clients.
-CCG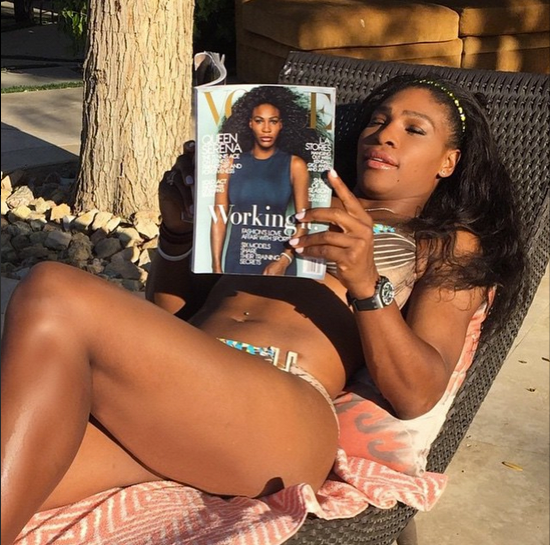 THEYBF