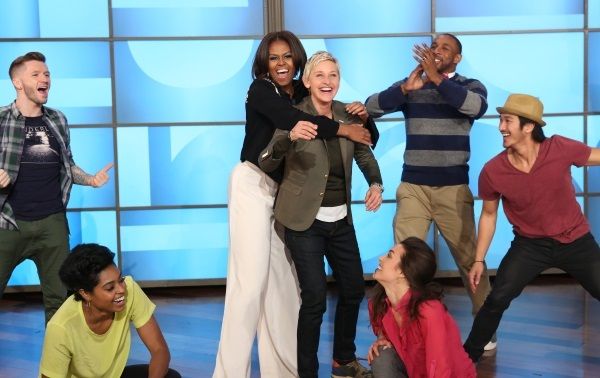 Thursday, First Lady MICHELLE OBAMA dropped in on ELLEN DeGENERES at her hugely popular NBC daytime talkfest,
The ELLEN DeGENERES SHOW
!!!
The FLOTUS dropped in to talk about the 2015 EASTER EGG ROLL and how this year's event will include a
"Let's Move"
component and a dance challenge.
The FLOTUS flowed:
"In honor of the fifth anniversary [of the Let's Move campaign] I've issued this challenge. We're calling it #GimmeFive and we're using the hashtag #GimmeFive on social media," Michelle said. "We're asking folks all across the country to #GimmeFive ways their leading a

healthy

life

. We've got a lot of celebrities involved," she said, thanking Beyoncé, Nick Jonas and Ryan Seacrest for their involvement. "We're gonna take over the Easter Egg Roll this year with a #GimmeFive dance, and actually the So You Think You Can Dance all stars are coming to the Easter Egg Roll to teach the whole South Lawn this dance."
What's the #GIMMEFIVE dance? You can learn it for yourself in the clip below as FLOTUS challenged ELLEN to do the #GIMMEFIVE dance to the tune of UPTOWN FUNK.
-CCG
THEYBF