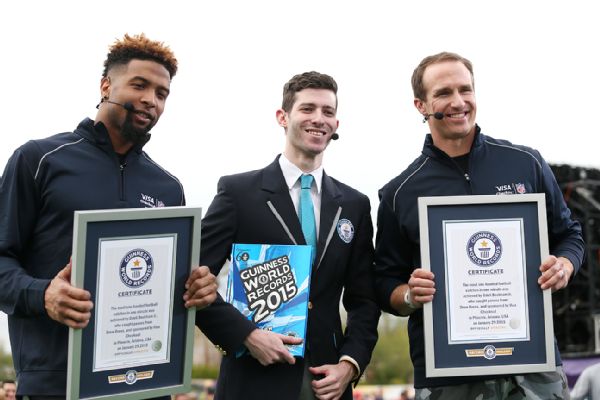 Thursday, January 29, NEW YORK GIANTS Wide Receiver #13 ODELL BECKHAM Jr. and NEW ORLEANS SAINTS Quarterback 39 DREW BREES brought to life a Visa commercial to set a
Guinness World Record
for most
one-handed catches in a minute, completing 33 on the
ESPN SUPER BOWL
set.
The passes had to travel at least 10 yards. The event was officiated by Arizona Interscholastic Association football official Tyler Cerimeli and was verified by
Guinness World Record
adjudicator Alex Angert.
Most one-handed catches in a minute was a new category that was broken in by BECKHAM and BREES.
They had to complete at least 10 passes in 60 seconds for the record to
count
. Their record-breaking attempts were televised, but if they had failed to reach 10, the pair would have had another
two
1-minute attempts to set the mark.
That wasn't needed when ODELL caught every pass thrown his way. DREW had his own broken-in footballs flown in from New Orleans for the event, and he was incredibly accurate, putting every pass just above Beckham's right shoulder
DREW BREES said;
"It's unreal. He's a special talent. To be able to do it with

him

is really cool. We were locked in," Brees said. "The way you do anything is the way you do everything. We were here to set the absolutely highest mark that we could. I think we did."
-CCG
ANS