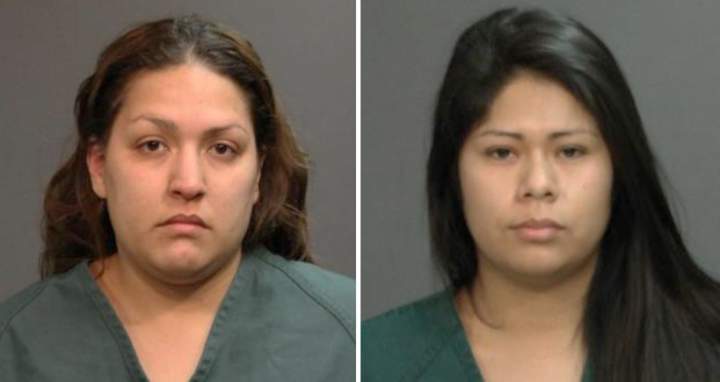 Meet CANDACE MARIE BRITO, 27, and VANESSA TAPIA ZAVALA, 26!!!
Friday, November 14, inside SANTA ANA SUPERIOR COURT, SANTA ANA, CA-resident CANDACE MARIE BRITO and VANESSA TAPIA ZAVALA, who had been convicted of VOLUNTARY MANSLAUGHTER, were sentenced to six years in prison for the BEATING DEATH of ANNIE HUNG "KIM" PHAM, 23, during a senseless brawl outside a SANTA ANA nightclub.
NBC 4 LA
reports the women had been found guilty in July 2014 of ASSAULT With FORCE To PRODUCE GREAT BODILY INJURY, but were acquitted of FELONY SECOND-DEGREE MURDER. They each faced up to 11 years in prison.
Zavala and Brito were accused of killing Pham, a CHAPMAN UNIVERSITY graduate student, by kicking her in the head as she was on the ground fighting their friend outside the CROSBY RESTAURANT And NIGHTCLUB on January 19, 2014.
VANESSA ZAVALA said;
"My heart goes out to all of you. Again, I am deeply sorry. As a parent, I can only imagine your loss."
The judge told the defendants he watched cell phone video of the confrontation about 40 times. He described the violence as a real-time nightmare, noting that onlookers pulled out cell phone cameras to record instead of stopping the fight. The judge also questioned why the victim stayed in the fight even as her friends were pulling her away.
CANDACE MARIE BRITO said;
"I am so sorry for your loss. In no way did I intend for this to happen. I will live with this for the rest of my life."
Friends of Pham told police that three women attacked her without provocation after the two groups bumped into each other outside the nightclub. Another witness said Pham instigated the fight by shouting obscenities and throwing the first punch after she and her friends bumped into another group exiting the bar.
Portions of the attack were captured on cellphone video as the victim's friends and a security guard unsuccessfully tried to intervene, officials said. Emergency 911 recordings also provided descriptions of the beating and aftermath.
One caller said the attackers "just ran off" and described Pham as having difficulty breathing.
ORANGE COUNTY SUPERIOR COURT Judge THOMAS GOETHALS decried the senselessness of the crime and wondered why all of the combatants did not just "walk away" from the scrum.
Judge THOMAS GOETHALS said;
"These were all funny, smart, bright young women. Why didn't they walk away?"
ANNIE HUNG "KIM" PHAM was hospitalized after the attack and taken off life support January 21.
A coroner's report said she died from blunt force trauma to the head.
-CCG