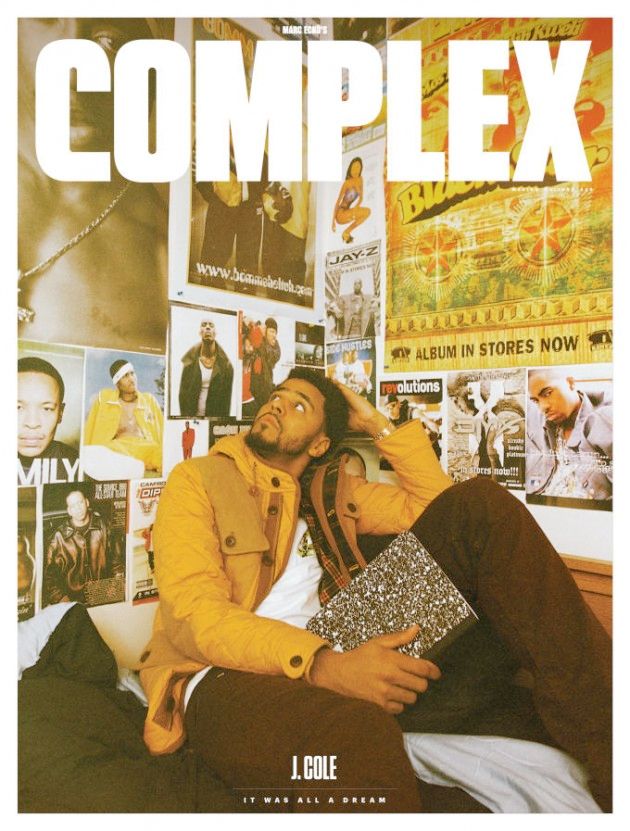 Rapper J. COLE covers the December 2014/January 2015 issue of
COMPLEX
!!!
Here are some interview highlights:
How has the city changed since you left?
People I grew up with tell me it's getting worse. I don't know if that has to do with the economy or if the education is getting worse. On the flipside, Fayetteville has some heroes now—even if they're rappers or athletes. We never even had that [when I was growing up]. You couldn't go to Raleigh, Charlotte, or Atlanta and be proud of where you were from. The pride before was about coming from somewhere that had a reputation of being a hard place to make it. Now there's a pride about accomplishment, whether it's me, or Eric Maynor, who made it to the NBA, or Eric Curry, who was the No. 3 draft pick in the NFL Draft. It sucks that these things have to come from sports and entertainment, but it's something for kids to look up to and say, "Somebody from here did something." I don't want to inspire kids to rap. I want to let them know that anything they want to do is possible. I come from here and did some shit that was impossible, so if you want to be an astronaut, lawyer, doctor, writer, journalist, or whatever, I want to inspire you to do that.
You rap a lot about love. What is it that attracts you to it?
I guess because I'm interested. I became more conscious of that with this album. That's what Hollywood represents versus 2014 Forest Hills Drive, which is home. Home is wherever the authentic, unconditional love is. The fake shit, the synthesized love, is Hollywood. I ran from Fayetteville to New York, from New York to everywhere, ultimately looking for what? For love—respect and love from my peers, love from the fans, love from the critics. I've learned that none of that shit is real. I appreciate it, it's extra love, but it can and should only help and add to the real pot of love. It should not substitute. "Artists" that go to Hollywood and live their lives for the cameras, the attention, they're supplementing for their lack of love, their holes. Those people—and maybe myself included—are ultimately running away from the place where the real love exists, because maybe it's too painful, maybe it wasn't the type of love that they needed, or it was void there. There was no father, there was no support. Wanting to be a movie star, wanting to be a rap star, wanting to have jewelry, wanting to have girls, and wanting to have money, all that shit is just trying to plug those holes. It's dangerous because it's not real.
Do you feel the label and Jay Z believe in you more now?
They definitely believe in me more now. But first of all, Jay Z believed in me enough to sign me, and for that I am forever grateful. Thank God he heard "Lights Please" and those songs I played for him the first meeting. Thank God he signed me off of those. After that, I can't front. If we asked him honestly, I'm sure he would say he wasn't sure what I would turn out to be in the grand scheme of things, in terms of commercial success.
What was it like when he put the Roc chain on you?
That was a top life moment. I don't soak shit up well, but after that night I definitely took a moment to. It wasn't about that moment of the chain. It was like, it took so long to even get this dude to come out on stage with me. It took so long to get this guy to come to shows.
-CCG