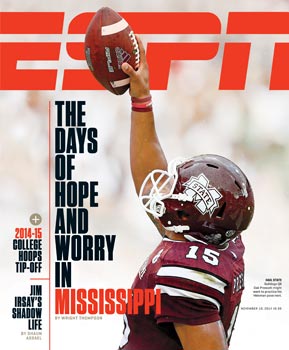 Though for many years, the state of MISSISSIPPI has had a longstanding history for being known as "First in things that are BAD, and Last in things that are GOOD", The MAGNOLIA STATE is newly learning to deal with being in the national spotlight for something good!!!
At the time of the printing of this cover story, both the OLE MISS REBELS and the MISSISSIPPI STATE BULLDOGS were undefeated in NCAA DIVISION-I Football.
Find out how Mississippi residents are handling THE DAYS Of HOPE And WORRY in the new issue of
ESPN The MAGAZINE
!!!
-CCG