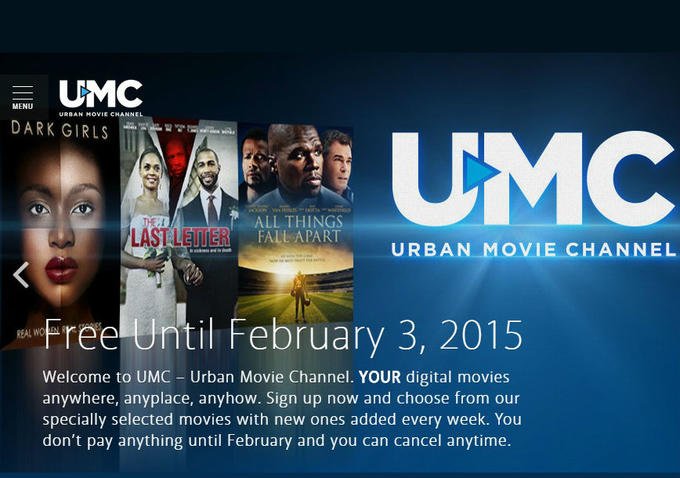 Yesterday, Thursday, November 6,
RLJ ENTERTAINMENT, Inc.
announced the launch of
UMC - URBAN MOVIE CHANNEL
!!!
UMC is owned by RLJ ENTERTAINMENT, Inc., which is one of the companies owned by
RLJ COMPANIES
, that is led by Founder/Chairman
ROBERT L. JOHNSON
, the founder and former owner of
BET - BLACK ENTAINMENT TELEVISION
, the first cable television network aimed at BLACK PEOPLE.
Many years ago, ROBERT "BOB" JOHNSON sold BET to
VIACOM
for a tidy sum, making him one of a tiny handful of black billionaires in the USA.
VARIETY
reports BOB JOHNSON said;
"As founder of BET, I have gained a deep understanding and knowledge about the African American and urban consumer and the entertainment content that appeals to them. UMC was designed so that the African American and urban creative community could directly reach consumers in a way that removes many of the restrictions associated with the legacy content development and distribution models. As

more video

is consumed over broadband, we believe that we can quickly become the preeminent provider of quality urban entertainment to what has largely been an underserved, yet highly engaged audience. I am convinced that urban consumers will gravitate to the

economic and

entertainment value proposition of UMC and that the creative community will embrace UMC as the best way to reach their loyal fans and benefit financially from showcasing their outstanding work product."
UMC will launch with a free trial period for subscribers through February 4, 2015, and with a suggested retail price of $4.99/month or $49.99/year thereafter, but with a special limited time introductory
pricing
of $2.99/month or $29.99/year to start.
Programs previously released by RLJE under the One Village brand will be incorporated into UMC's library, which will also include titles from RLJE's existing Image independent feature film line.
MIGUEL PENELLA is CEO of RLJ ENTERTAINMENT.
THE HOLLYWOOD REPORTER
says MIGUEL PENELLA stated;
"As one of the largest independent distributors of entertainment content with nascent propriety streaming channels like Acorn TV, we are uniquely positioned to fulfill

the vision

of our chairman and deliver to the urban audience an unprecedented library of high quality video content. We are confident in RLJE's ability to acquire, distribute, and monetize existing and original content that will appeal to the urban community across the growing number of distribution platforms.I am confident that with Traci joining the RLJE management team, her expertise will be beneficial to the company as a whole and help our strategic launch of UMC," said Penella. "She will promote the channel and grow its subscriber base by building new and cultivating existing relationships which will ultimately have a strong impact on RLJE's digital platforms."
TRACI is TRACI OTEY BLUNT, who joins RLJE as
Corporate Executive
Vice President of
Marketing
and Corporate Affairs and will oversee the company's marketing, public relations and
investor relations
, as well as the promotion of the UMC
channel
.
Among the titles launching are live stand-up performances featuring Kevin Hart, Jamie Foxx, and Charlie Murphy; documentaries "Dark Girls" and "I Ain't Scared of You: A Tribute to Bernie Mac;" the feature films "All Things Fall Apart" starring 50 Cent, Mario Van Peebles, and Ray Liotta; and "The Suspect" starring Mekhi Phifer. Bestsellers include the stage play production of "What My Husband Doesn't Know" by David E. Talbert.
Among RLJ Entertainment's holdings are Acorn, Image, One Village, Acacia, Athena, and Madacy brands. The company owns, produces, and exploits intellectual property rights in various formats, including DVD, Blu-ray, digital, cable and satellite broadcast, VOD,
streaming video
,
downloading
, and sublicensing.
-CCG
ANS