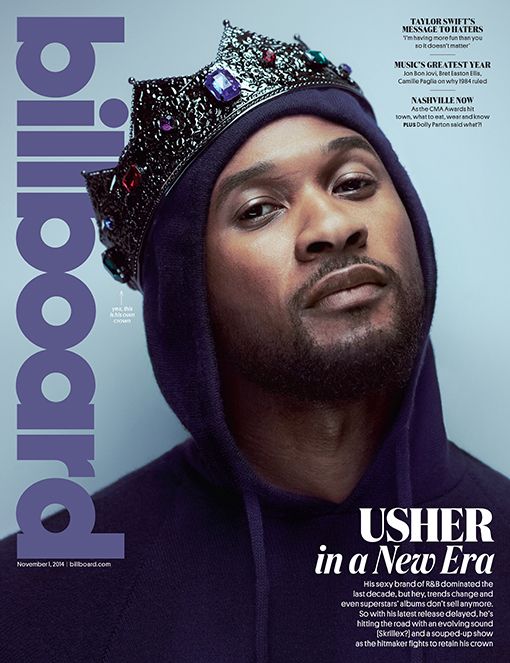 ATLien Singer/Songwriter/Producer/Dancer USHER covers the new issue of
BILLBOARD
!!!
Here are some interview highlights:
On pushing his album back indefinitely:
"I just ain't ready. Meaning I have more that I want to say and more that I want to do. My process is pretty different. L.A. Reid will tell you, it takes two albums to make one with Usher.
Marketing is more important than it has ever been," he says. "But I'm trying to tear the layers back and make it not so contrived. I think people just want entertainment. For certain artists it might be hard, but they don't have the show."
On his extra fit body
"These days, I try to eat for my blood type when I'm not eating for the fat kid inside me," he says. His blood type? "A doctor I know came up with it, but hasn't released it yet, so I don't want to tell you too much about it," he explains. "But the idea is to eat the foods that work best for your body. For my blood type the meats I can eat are pork, beef and fish."


On his friendship with
Diddy
"I'd say I earned my stripes in New York City. My time with Puff, it gave me chutzpah....I got to see performers like Tupac Shakur," he says. "Redman, Method Man, Ice Cube. I got to perform onstage with The Notorious B.I.G., be in sessions with him and Craig Mack. I got to be part of the driving force that was Bad Boy, that was Puff."
On his current relationship with protege Justin Bieber
"Our relationship is more man-to-man now. He's making his own decisions and it's important to show support. I can say I'm not happy with all the choices my friend has made, but I'm supportive of him. I try my hardest to give as much positive reinforcement as I can. I'll punch him in the f---ing chest when I need to, and give him a hug and kiss when I need to. It's more than just mentoring. I love the kid."
-CCG
THEYBF