Meet
NEW YORK BEAUTY SURGEON
Dr. AYMAN SHAHINE!!!
A group of NEW YORK women wanted curvier, firmer bodies with a little bit of surgical help.
They chose LIPOSUCTION, BREAST IMPLANTS, and FAT TRANSFERS from Dr. AYMAN SHAHINE.
Dr. AYMAN SHAHINE is NOT a Plastic Surgeon. He is actually a GYNECOLOGIST who has been sued for malpractice multiple times and who runs a so-called plastic surgery mill in MIDTOWN NYC that operates around the clock for cash.
He has done work on KIMBELLA, NYA LEE, STEPHANIE SANTIAGO, and RENEE GRAZIANO.
PIX 11 NYC
reports CAROLYN ROBINSON, a mother of two, said she was among patients who spent days in a tiny waiting room as Shahine worked around the clock, keeping them drugged with pills doled out by non-medical personnel. She found out too late that he operates without a nurse or anesthesiologist, giving only local numbing skin injections.
CAROLYN ROBINSON said;
"I said I want my money back. That's when he sent another dose of the pills and I started getting weak, sleepy. He just put in the implant and stitch me up. He never gave me the breast lift or the tightening."
CAROLYN ROBINSON paid $14,500 cash to Dr. AYMAN SHAHINE for the procedures.
LAVERN GORDON paid $6,000 cash for her liposuction with Shahine. She now wears a girdle over a workout mat stuffed with a book, a set up that Shahine allegedly told her would flatten her tummy and fix her uneven waist, some four months after surgery.
LAVERN GORDON said;
"I think he brainwashed me. He told me, 'I'm gonna make you look good, give you the body you want.' And he showed me the celebrities he did, and I just went through with it."
In New York, it is legal for any type of doctor to do any type of cosmetic procedure. And they can do them in non-inspected operating rooms, provided they only use local anesthesia and "mild sedation."
Liposuction amounts must be kept below 500 ml, or about 2 cups.
But there is absolutely no inspection of these sites, no enforcing of the drug or lipo rules, by anyone.
Shahine, who does liposuction, breast implant and other surgeries has never had his OR inspected or accredited as safe or sanitary, according to the New York State Health Department.
Dr. HECTOR VILA said;
"Office-based surgery suites that do significant operations should be accredited. Surgical offices are trying to do the bigger operations by skirting around the rules by using large doses of local anesthesia, doing multiple surgeries. Those large doses of local anesthesia can result in toxicity … there've been deaths here in Florida."
CHERISE ROBINSON paid for a $6,000 surgery meant to rid her of rolls on her back and flatten her tummy. But it was only half done when an enraged patient who spent five days in this a waiting room came to Shahine's OR.
CHERISE ROBINSON said;
"Then I looked up and saw Dr. Shahine push someone, and raise his hand to hit someone and next thing I know someone on the floor and it's Dr. Shahine and I look and she's got him by the collar and she's just beating him and yelling, 'Why did you hit me, why did you hit me?' I got down off the table, naked, and I just held her hand that she had held on to his shirt and I said no you cannot do this."
-CCG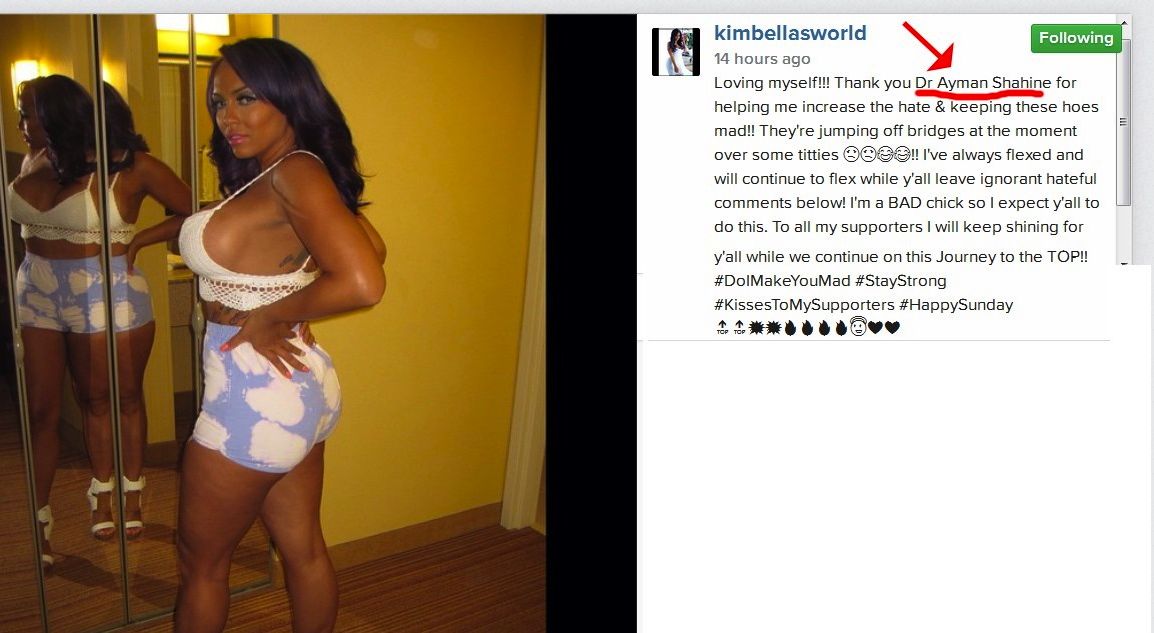 ANS