GOOD TUESDAY to ALL of My CRAZY COOL GROOVY Family, Friends, Frats, Fans, Followers, Frienemies, and FANTABULICIOUSTICAL Funky Fresh Fly Folk of ALL Colors, Shapes, Sizes, Flavors, Persuasions, and Denominations!!!
Today, Tuesday, September 16, 2014, is a celebration of one of Yours Truly CCG's favorite condiments, NATIONAL GUACAMOLE DAY.
Everyone has a different idea of what really "makes" guacamole.
Whether you prefer mild, spicy, savory, or a sweet flavor, there's a GUACAMOLE for you, and GUACAMOLE can be enjoyed year-round.
Salivate and Lick Your Lips over the SAVORY 7 of the
TOP 10 AMAZING WAYS To HELP YOU CELEBRATE NATIONAL GUACAMOLE DAY
: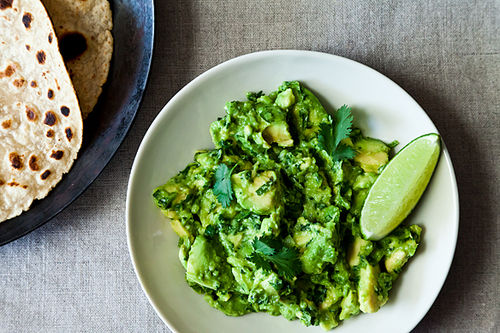 1.)
ROBERTO SANIBANEZ CLASSIC GUACAMOLE
:
Often considered the man who made Mexican food in New York trendy, Santibañez says he never mashes up the avocado in guacamole completely, he only "crushes up enough of it to warrant it consideration as a dip rather than a salad," he told Food52.
2.)
SPICY BACON GUACAMOLE
:
We know bacon's not the healthiest snack option, but hey, today's a holiday, right? Trust us, the bacon and pickled jalapeño in this recipe form a combination you don't want to miss out on.
3.)
MANGO POMEGRANATE
:
Like a little sweet with your savory? This recipe folds in tart mango and crunchy pomegranate seeds for a rainbow-colored dip that's chock-full of nutrients and flavor.
4.)
COPYCAT CHIPOTLE MEXICAN GRILL GUACAMOLE
:
Say what you will about Chipotle, but its guacamole is positively
addictive
. PopSugar Food went behind the scenes with founder Steve Ells and got the secret ingredient the company swears by in its popular dip.
5.)
RACHAEL RAY APPLE And ALMOND GUACAMOLE
:
This recipe is a little crunchy, a little creamy, always delicious.
6.)
CELERY-SPIKED GUACAMOLE With CHILES
:
The Serrano chiles and garlic add a little heat to this recipe, while the fresh celery cools it down for a combination that packs a powerful punch of flavor.
7.)
FULLY-LOADED GUACAMOLE
:
This recipe from Valerie's Kitchen is technially a little more like a salad than guacamole, but we'll allow it on the list for two reasons: One, it's great to make in large batches (can you say party time?), and second, it's literally loaded with healthy veggies like corn, bell peppers, and jicama.
PEACE, LOVE, And GREAT GUACAMOLE DAY BLESSINGS;
-CCG