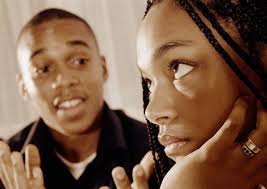 GOOD VALENTINE'S DAY FRIDAY to ALL of My CRAZY COOL GROOVY Family, Friends, Frats, Fans Followers, Frienemies, and FANTABULICIOUSTICAL Funky Fresh Fly Folk of ALL Colors, Shapes, Sizes, Flavors, Persuasions, and Denominations!!!
FELLAS;
Over a period of personal observation of your FIRST DATE experiences, you should be learning what WORKS and what DOES NOT WORK when it comes to FIRST DATE CONVERSATION.
Her facial expressions, body language, hand gestures, and how often she checks her mobile device(s) are just a few clues as to how your first date may be, or; may NOT be progressing.
HAHZ at
ATL NIGHT SPOTS
has endured endless hours painstaking research to narrow it down to these
TOP 5 QUESTIONS To NOT ASK A LADY On The FIRST DATE
:
1.) EXACTLY how old are you?
Women who have been on the market for a minute are never comfortable with this question and would rather wait till they really.. really know you before they revealed their age…women are sensitive about their socially constructed "shelf lives."

2.) WHY and WHEN did your last relationship end?
This is something I used to ask too fast and with time I learned to fall back as you should. I was trying to look for red flags instead of letting everything naturally flow. Asking this question has no benefits on the first date cause she will downplay everything to keep her self looking good to you.
Everything will eventually reveal itself to you.
3.) Do you like SEX?
Fellas it seems like we wouldn't have to have a discussion about this question but I heard about guys going in on this topic waaay to fast. Stop being lazy and pay attention to her body language. If she brings up sex then by any means go in on the subject but you never want to come off thirsty trying to have a one-night stand.
4. How many KIDS do you want?
Way too much pressure! I get that you want to leave your baby batter deep inside the ladies to produce some little trophies, but let's just let that be a more developed conversation please!
5. Where do you see yourself in 5 YEARS?
Is this an interview?
Not the time or place for these in depth future wife kinda questions. Keep it light, simple and fun when it comes to the questions on your FIRST DATE.
HAPPY GREAT FIRST DATES RELATIONSHIPS FRIDAY!!!
PEACE, LOVE, And VALENTINE'S DAY BLESSINGS;
-CCG