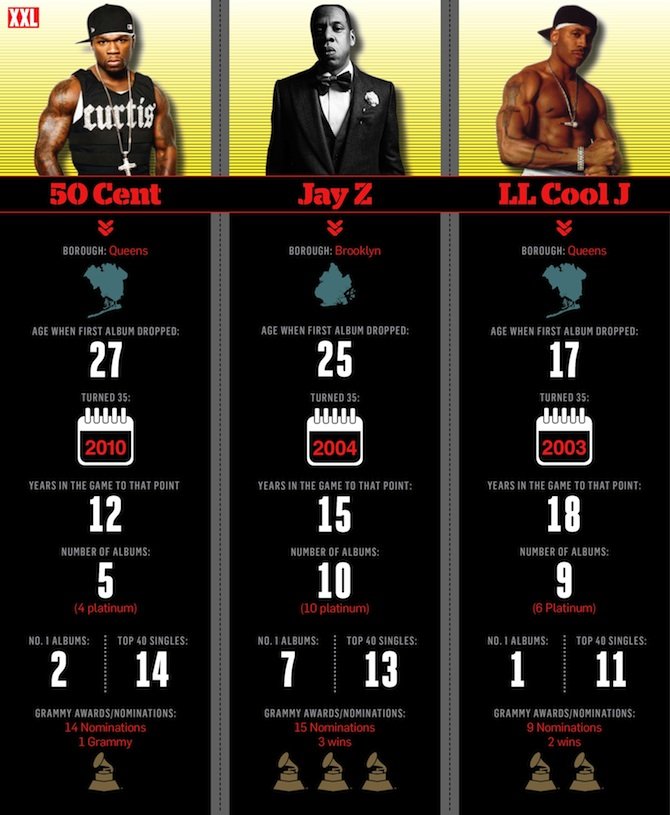 NEW YORK CITY has spawned some of the biggest rap stars on the planet since the genre was born in the Bronx in the 1970s!!!
But despite the wide-ranging success of groups like A Tribe Called Quest, Wu-Tang Clan, Beastie Boys and De La Soul—among a host of others—the city's most commercially successful artists have usually been solo rappers such as LL COOL, JAY-Z, and 50 CENT, all of whom have enjoyed sustained careers into their late 30s, at least, and all of whom have claimed the status as the top rapper in the game at some point along the way.
XXL
dug a little deeper into the matter, taking a microscopic look at three of New York City's best MCs, letting the facts speak for themselves and running down the highlights of LL, Jay and 50′s careers by the the time they turned 35, using age as a benchmark. The results are a
lot
closer than you'd expect. Suffering from success.
-CCG
ANS