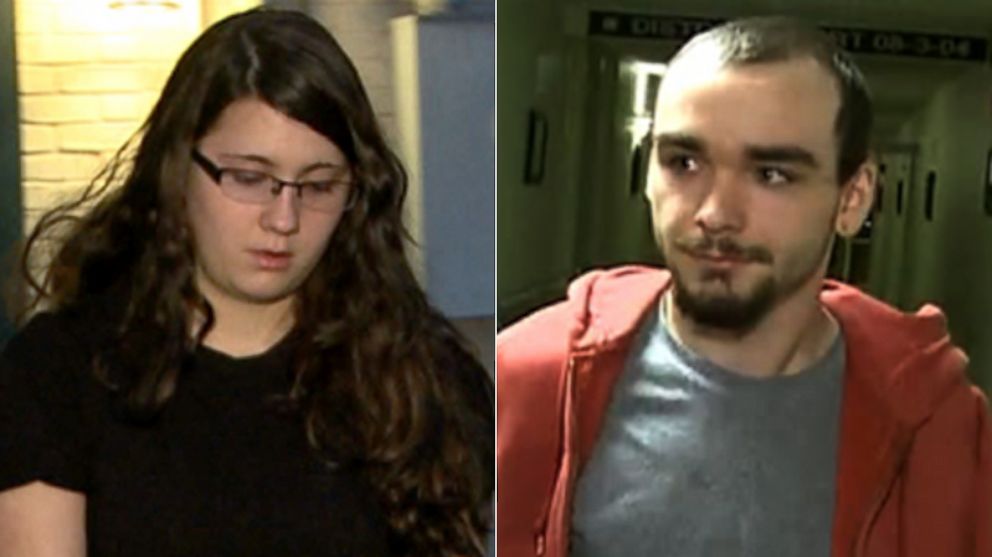 Meet Mr. and Mrs. ELYETTE (right) and MIRANDA (left) BARBOUR!!!
ELYETTE BARBOUR, 22, and his wife, MIRANDA BARBOUR, 18, were married just three weeks when they allegedly killed TROY LaFERRERA, 42, after setting up a meeting with him on
CRAIGSLIST
.
SUNBURY, PA POLICE say ELYETTE said the couple had tried to kill other people in the past but were not successful until they met with LaFERRERA.
ELYETTE and MIRANDA killed TROY LaFERRERA on the date of ELYETTE's 22nd Birthday.
ABC NEWS
reports police are reviewing other previous suspicious activity or events that might be related to the couple, including the death of the biological father of Miranda Barbour's 1-year-old child.
SUNBURY, PA Police Chief STEPHEN MAZZEO said;
"We have unresolved issues and that is one unresolved issue. We are looking at liaising with other departments."
The couple had recently moved to Pennsylvania from North Carolina and at this time police were not looking for any other accomplices in the murder.
Police arrested Miranda Barbour on Tuesday and she was charged with homicide Wednesday. She told police that she consistently met with men who wanted companionship and was compensated for this with money.
Miranda Barbour told police she met Laferrara through Craigslist and met him only once. According to police, Barbour said that after picking up Laferrara at a mall, she stabbed him only after he put his hands around her neck and groped her.
Although originally police did not arrest Elyette Barbour, they were suspicious of him after finding video of the couple buying cleaning supplies the night of Laferrara's murder.
On Friday, Elyette Barbour was arrested after allegedly admitting to police that he had been hiding in the back seat of his wife's car under a blanket when she met Laferrara.
He allegedly told police that after his wife signaled him he jumped out and wrapped a cord around Laferrara's neck as his wife stabbed him. Laferrara's body was found with 20 stab wounds, according to police.
Police said after the couple dumped Laferrara's body, they then cleaned their car and went to dinner. Elyette Barbour was arraigned Friday on charges of homicide and aggravated assault.
According to the arrest affidavit, Elyette Barbour said the couple killed Laferrara because they just wanted to murder someone together. Calls to Miranda Barbour's public defender were not immediately returned. It was unclear Saturday morning whether Elyette Barbour had an attorney.
-CCG