Actor/Director/Model/DJ IDRIS ELBA covers the October 2013 HOW-TO ISSUE of
GQ
!!!
Check out some highlights from the interview:
On his ex wife, a London woman he had an on-and-off relationship with and married at 26
"I liked the idea of being married. I was focused in on what I was trying to do in my life. And my girl supported me."
On their divorce, which happened when his now ex-wife was pregnant
"I had to keep going back and forth to New York, to London, to try and make a bit of money real quick." Back in the States, Elba's wife "didn't adjust to the culture as quickly as I did." And he was gone a lot. "We just had a hard time. The next thing you know, we broke up.
"
On struggling as an actor
"The apartment we had lived in together was in Jersey City. So when I left, I was sofa-hopping here and there and got to a place where I was parking it in Jersey somewhere and just camping down for the night. I mean, it was like, 'Fuck, where did I go wrong?' I had a lot of promise in England, you know? 'What the fuck are you doing here? Your visa's going to run out soon. You're going to have a baby. What the fuck are you doing?' That's what's going through my head...I was studying [for "the Wire"] in my van for the auditions."
On selling weed
..."I was running with cats. I mean, I was DJ'ing, but I was also pushing bags of weed; I was doing my work. I had to. I know that sounds corny, but this is the truth." He says he'd sell drugs at Carolines, and meanwhile all these successful guys would come through: D. L. Hughley, Dave Chappelle. "All those black comedians, they knew me as a doorman."
On his unique ability to blend in, as a kid and now
"I sort of blended into the background quite a bit. I wasn't the guy that was a big personality. I was the tall, silent, quiet type....I call it the invisible factor. On any ordinary street, walking down in London Soho in a cap, I'm just a fucking tall black man walking along."
On the son he THOUGHT was his, but discovered the baby momma lied to him
"The celebration of having a son—from a man's perspective, it's massive." He told friends about it. He told reporters about it. Then came the suggestion—not from the child's mother, but from elsewhere—that not everything was what it appeared to be. "It wasn't immediately obvious—well, it was, because he didn't look like me," Elba says. "But it wasn't immediately obvious what had gone down."
Eventually, Elba decided to take a paternity test, which showed the child wasn't his. "To be given that and then have it taken away so harshly," he says, "was like taking a full-on punch in the face: POW."
"You know, the truth is—like, even admitting it, I'll probably get laughed at for the rest of my life. But it is just tragic, and it happened." He looks directly at me when he says this. "But I wasn't knocked out. I stood right the fuck back up, and I ain't aiming to take another punch in the face ever again. Do you understand what I'm saying? It happened to me. I moved on."
-CCG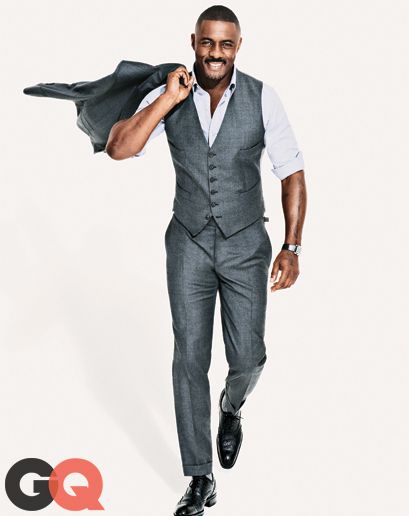 THEYBF