Saturday, September 20, 2014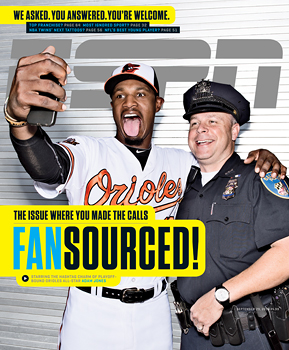 BALTIMORE ORIOLES Outfielder #10 ADAM JONES covers the 2014 FANSOURCED ISSUE of
ESPN The MAGAZINE
!!!
-CCG
Posted by

CCG
at 3:42 AM
No comments:

Links to this post
Friday, September 19, 2014
Actress/Singer/Musician/Bandleader/Philanthropist JADA PINKETT SMITH covers the October 2014 issue of
HEALTH
!!!
Here are some interview highlights:
What's your secret to having such a good attitude about getting older, especially given the youth-worshipping business you're in?
Because it is what it is! I'm getting older! I've never looked at myself as, like, a beauty. I'm not sore on the eye, but I know there's always going to be somebody more beautiful—always. My grandmother used to say to me, "It's not about what you look like on the outside. It's what you look like on the inside." So she helped me learn at an early age to be well-rounded, to be spiritual, to be compassionate.
And my mom said, "You can do whatever you want with your hair and your clothes." I went to art school, and I could make my hair lime green if I wanted. So there was a certain internal power that grew within me because I didn't have a problem being who I was, no matter what room I was in.
You've been doing a documentary project for CNN about human trafficking in the U.S. You must take that home with you a lot.
Yeah. [
Starts crying
] You know, when bad things happen to me, and all this stupid crazy stuff people want to say about us, I just think back to all these resilient young girls I have met who have not just survived this but are thriving. This kind of work will be in my life forever.
On Facebook, you urge females to "woman up" and be more supportive.
We're all connected to each other. When women live closely together, their menstrual cycles sync up. And that's something special that women ignore every f-ing day because we're taught to compete with one another, to be afraid of one another.
Have you gotten that female support in Hollywood?
Angelina Jolie and I, we're not friends, but when I called her about my human trafficking endeavors, she went all in. And I really appreciated that because there are not a lot of times that you can call upon people in our business and get serious help. She put me in contact with the people I needed to be in contact with, she sent me books, sent me all the information she had. I'm not saying that Angelina and I are, like, girlfriends and kicking it every day, but when you call another woman who's in a position to lend support to you and she just jumps right in there—that's sisterhood.
-CCG
NECOLE BITCHIE
Thursday, September 18, 2014
NEW YORKER Journalist ROGER ANGELL says farewell to NEW YORK YANKEES Shortstop #2 Captain DEREK JETER who is depicted taking a farewell wave to the crowd at YANKEE STADIUM for the cover of
THE NEW YORKER
!!!
-CCG
NO Family ever expects what happened on that HALLOWEEN night to the STOVER family... to happen to them!!!
16-year-old TIPTON HIGH SCHOOL CARDINALS Defensive Back #18 CHAD STOVER and his family left home that evening expecting to return after the football game.
What happened that night should not ever happen to any family.
It was halloween night, and the Tipton Cardinals needed a tackle. trailing 27-18 in the opening round of the Missouri high school playoffs, a stop here—on first down and 10 with less than seven minutes to play—would help keep Tipton's fading season alive.
As the running back took the Handoff and sprinted right, Tipton's Chad Stover, a 16-year-old defensive back, dove at his legs with arms outstretched. Chad's head collided with the runner's right thigh as the back dodged the tackle to gain another few yards. Chad went down, and his helmet smacked into the ground.
Chad wobbled to his feet, and after a time-out, he jogged to the sideline. twice, a Tipton assistant coach asked if he felt well enough to return to the game. twice, Chad said he was good. He went back in, and Tipton huddled up. "Something's wrong," Chad told a teammate before lining up for the play. Suddenly, his legs turned soft.
CHAD's Mom AMY STOVER said;
"When he walked out the door to play football that day, it didn't cross my mind that i wouldn't see him come off that field," Chad's mother, Amy, says nearly eight months later. "it just didn't."
TIME Journalist SEAN GREGORY travels to TIPTON, MO, to investigate the question,
IS IT WORTH THE COST: THE CHAD STOVER STORY
.
-CCG
Posted by

CCG
at 1:26 PM
No comments:

Links to this post
MONYETTA SHAW, CHRISTINA JOHNSON, SHEREE BUCHANAN, and TAMEKA FOSTER RAYMOND are four of the five co-stars on new VH1 RealiTV series,
ATLANTA EXES
, and they recently visited the V-103 stdios for an interview with Host BIG TIGGER for the BIG TIGGER SHOW!!!
-CCG
Attorney/Producer/
THE SOURCE
Publisher/Chairman
LONDELL McMILLAN
recently visited the POWER 105.1 studios for a SOURCE POWER 30 x SOURCE360 REVEAL interview with THE BREAKFAST CLUB!!!
-CCG
ATLien Rapper RCIH HOMIE QUAN covers the new issue of
ROLLING OUT
!!!
Here are some interview highlights:
You are a native Atlantan. Talk about your formative years.
I am from East Atlanta. I went to McNair High School and graduated with a 3.2 grade point average. So, I am not dumb; I do have common sense.
Well, at first rapping was something I really stayed away from. It was nothing I was into. Like when I was 8, I asked for a karaoke machine but I was always shy. I would stay in my room, you know what I'm saying, turn the music down real low. I couldn't cuss — I was living with my mama, so I would rap over little tapes. I would even beat on my hand, rap over tapes and cassettes, and go back to school and listen to it. People [would] ask me what I was listening to and I [would] lie, say Lil Wayne — knowing I was listening to myself. At the same time, I was in love with baseball growing up. I played baseball from [age] 4 until 18, so baseball, I was thinking was really my ticket, but God just kept throwing the music in me. I had never been in a real studio.
I graduated from high school and I ended up getting into some trouble. I went to jail, did 15 months and I would say during those 15 months, I rehabilitated my mind. Before I got locked up I knew who I was, well I thought I knew who I was, but I got locked up for burglary … I was breaking into houses.
How did you end up going down that path?
My mother and father are both still living. They're not together, but I grew up in a great household. When I started growing up, you know how us men get, we get to smelling ourselves, you know, that's when I started doing bad things, but when I was in jail, I came home with a rehabilitated mind. I came home stronger.
You say you came home stronger. How so?
I could read perfectly, but like I would read a whole page but I didn't know what I was reading about. When I got to jail and once I learned how powerful reading was, man, I fell in love with it, so that made me start writing poems in jail. I think that's why my music is so descriptive. My favorite author I fell in love with by being in jail is James Patterson. He's the best author to me.
When you were incarcerated, what did you spend your time doing that brought about this artist that we recognize now?
I think chess had a lot to do with it. Before I went there I never played chess, but I noticed all the old men would play chess. Why [are] all the old men playing chess? Why [are] all the young boys playing cards? So I sat at the chess table one day and I noticed chess wasn't a game like checkers. Chess is a game [where] you gotta look at four steps ahead of your next move. I learned so much from the old people in there, man. Plus old people had nothing but knowledge for me. But the game of chess helped me to realize how to make my moves strategically.
-CCG
GOOD THURSDAY to ALL of My CRAZY COOL GROOVY Family, Friends, Frats, Fans, Followers, Frienemies, and FANTABULICIOUSTICAL Funky Fresh Fly Folk of ALL Colors, Shapes, Sizes, Flavors, Persuasions, and Denominations!!!
LADIES;
Here we go again...
At any time within the last 24 hours, have YOU taken any time just for yourself to Take Off Your Bra?
Are you STILL wearing your bra 24/7/365, even when you lay down to sleep?
If you are at least 40 years of age, have you made an appointment with your physician to schedule your annual MAMMOGRAM?
If you are at least 20 years of age, do you practice performing your monthly BREAST SELF EXAMS, or, BREAST MASSAGE?
Are you a BREASTFEEDING MOM, or; do you plan to be a BREASTFEEDING MOM?
Whether or not you are currently tattooed, are considering TATTOOING Your BREAST(S)?
If the answers to the first 4 questions are NO, and the answers to the last 2 questions are YES, then NOW would probably be a good time for you to take that moment to TAKE OFF YOUR BRA.
Unless you are completely blind, or have been completely living under a rock, then you, u, You, U, and YOU know that within the last 20 years or so, it has become more common for women to make the lifetime decision to have one and in many cases, more than one, or two, or more...
TATTOOS
.
It has also become more common for a woman to be tattooed on parts of her body that once would not ever have been imagined, such as on her FACE, NECK, BREAST, HAND, BUTTOCK, or; even her VAGINA.
However; today being Thursday, that means that it is BRALESS THURSDAY, and the ultimate focus of BRALESS THURSDAY is to encourage BREAST CANCER AWARENESS, and encourage ALL of you to put yourselves in charge of your BREAST HEALTH.
So, BEFORE you make this LIFETIME DECISION, and go dashing off to your local Tattoo Parlor for an artist consultation, give us a read and educate yourself on your commitment to TATTOING YOUR BREASTS.
Since the month of August is now designated as
NATIONAL BREASTFEEDING AWARENESS MONTH
, check out
Q & A: BREAST TATTOOS And BREASTFEEDING
:
How are tattoos created, and are they safe?
Tattoos are created by injecting ink into the dermal (second and third) layer of the skin. Tattooists use a hand-held electric machine that is fitted with solid needles coated in the ink. The needles enter the skin hundreds of times a minute to a depth of up to a few millimeters. The ink that is used in tattoos in the United States is subject to FDA (Food and Drug Administration) regulation as cosmetics, but none are approved for injection under the skin.
Are there health risks associated with BREAST TATTOOS and BREASTFEEDING?
Tattooing is currently legal in all US states except for Massachusetts, Oklahoma, and South Carolina. It is illegal in a few US cities. It is also legal in all provinces of Canada. However, the artist training, sterilization of instruments, and inspections of the studios depend on state or provincial laws.
Reputable tattooists will follow universal precautions such as sterilization of the tattoo machine using an autoclave; single-use inks, ink cups, gloves, and needles; bagging of equipment to avoid cross contamination; and thorough hand-washing with disinfectant soap.
Reputable Professional Tattooists will NOT tattoo a woman who is currently PREGNANT or BREASTFEEDING.
SANTA BARBARA,CA-Tattoo Artist
PAT FISH
says;:
"There is always an element of risk in getting a tattoo. The tattoo could have an adverse effect on the mother's immune system that could be transmitted to the baby"
While the body is healing after a tattoo—and producing milk—and if the mother's body would "reject" the tattoo, the possibility exists that it could harm the baby. This is especially a problem if the client does not follow the aftercare instructions and develops an infection.
The general information about tattooing also applies to BREASTFEEDING MOMS.
According to the research, local and systemic infections are the most prevalent risks of tattooing. Local infections can occur. The aftercare regimen includes keeping the tattoo clean with mild soap and water, not picking at the scabs, and keeping the tattoo out of the sun. Systemic infections occur when universal precautions are not followed by the tattoo artist and can include such diseases as hepatitis, tetanus, and HIV.
HUMAN MILK BANKS
will not accept donations from mothers who have had a tattoo done in the previous 12 months, because of the possibility of various infections caused by blood-borne pathogens.
There has never been a recorded case of tattoo-transmitted HIV infection; the last reported tattoo-related incident of hepatitis was in 1950.
It is possible to have allergic reactions to the tattoo inks.
And since the month of October is observed as
NATIONAL BREAST CANCER AWARENESS MONTH
, check out
Q & A: BREAST TATTOOS And BREAST CANCER
:
Can Tattoo Ink lead to BREAST CANCER?
It has been said that "tattoo ink is remarkably nonreactive histologically, despite the frequent use of different pigments of unknown purity and identity by tattoo artists.
However, University of Bradford researchers using an atomic force microscope (AFM) that allows them to examine skin with tattoos at the nano-level have found evidence that suggests otherwise. In a preliminary study (the first to use an AFM to examine tattoos), the researchers found that the tattoo process remodels collagen (your body's main connective tissue).
Further, nanoparticles from tattoo ink were found to exist in both the collagenous network of the skin as well as around blood vessels. This suggests that the ink particles are leaving the surface of your skin and traveling elsewhere in your body, where they could potentially enter organs and other tissues.
This is problematic because tattoo inks are largely
unregulated
and known to contain cancer-causing compounds.
Could the NANOPARTICLES in Tattoo Ink be carcinogenic and possibly lead to BREAST CANCER?
Nanoparticles are ultramicroscopic in size, making them able to readily penetrate your skin and travel to underlying blood vessels and your bloodstream. Evidence suggests that some nanoparticles may induce toxic effects in your brain and cause nerve damage, and some may also be carcinogenic.
In 2011, a study in
The British Journal of Dermatology
revealed that nanoparticles are indeed found in tattoo inks,
with black pigments containing the smallest particles (white pigments had the largest particles and colored pigments were in between).
With the exception of the white pigments, the researchers noted that "the vast majority of the tested tattoo inks contained significant amounts" of nanoparticles.
Are certain types of Tattoo Inks riskier than others... could they cause a more significant increase in risk for BREAST CANCER?
The black ink is the color most often linked to potential adverse health effects, although all tattoo inks have toxic potential, including:
Potentially carcinogenic
May cause inflammation and DNA damage
May contain carcinogenic Polycyclic Aromatic Hydrocarbons (PAHs) like benzo(a)pyrene (a Class 1 carcinogen according to the International Agency for Research on Cancer)
Since black ink may contain a significant amount of nanoparticles, it is likely that such toxins could find easy entrance into your bloodstream, perhaps worsening their effects.
Writing in
Experimental Dermatology
, researchers highlighted the dangerous potential of tattoo inks (particularly black) even beyond nanoparticles:
"Black tattoo inks are usually based on soot, are not regulated and may contain hazardous polycyclic aromatic hydrocarbons (PAHs). Part of PAHs possibly stay lifelong in skin, absorb UV radiation and generate singlet oxygen, which may affect skin integrity.

… Tattooing with black inks entails an injection of substantial amounts of phenol and PAHs into skin. Most of these PAHs are carcinogenic and may additionally generate deleterious singlet oxygen inside the dermis when skin is exposed to UVA (e.g. solar radiation)."
While so far incidences of skin cancer appearing on tattooed skin has been deemed coincidental,
it is largely unknown whether the inks may be contributing to cancers, or other health problems, elsewhere in the body.
LADIES;
To TATTOO, or; NOT To TATTOO The TAT-TAS... that IS the question.
What say you???
HOLLA!!!
HAPPY TAKE OFF YOUR BRA, TAKE CARE Of YOUR BREASTS, BREASTFEED ALL Of YOUR BABIES, And TAKE CARE Of YOURSELVES BRALESS THURSDAY!!!
PEACE, LOVE, And BEAUTIFUL, BOUNTIFUL BRALESS THURSDAY BLESSINGS;
-CCG